The Linen Shop was started 25 years ago by a frustrated caterer who found that her customers at the time had three options for Vermont linen rentals: white, ivory and burgundy. That caterer was me, Connie Mendell.
For me, three was not enough. When I couldn't find what Vermont brides were asking for, I started sewing custom tablecloths and purchased other rental inventory. As I raised my family, I also ran a catering company, opened a restaurant, operated a Bed and Breakfast and owned a wedding venue. I was fully immersed in the Vermont wedding industry.
The Linen Shop provided beautiful rental linens to our entire family of businesses and eventually grew to service customers across the state of Vermont. My children, husband and friends have been witnesses, partners and employees of these businesses – the importance of treating customers like family a theme that ran through them all.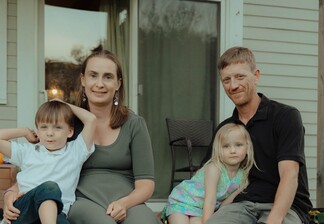 In the true spirit of a family business, The Linen Shop is now managed by my grown daughter, Hallie. She grew up in the Vermont Wedding business and knows the ins and outs of events, not to mention table sizes and the corresponding linen length. She will coach you through the linen rental process.
When placing an order, or calling to ask a question, you will talk to Hallie. Period. We are big enough to offer a large selection of colors, sizes and options, but small enough to pay attention. We look forward to welcoming you into our family. Hallie and I would love to help you incorporate unique color combinations, subtle textures or flashy prints through our Vermont linen rental service. But if you have your heart set on burgundy, we have that too.
Click here to work with us and learn more about linen rentals at info@linenshopvt.com
The Linen Shop has been featured on...
2022 Vermont Weddings - A Modern, Elegant Farm Wedding

2022 Hayes & Baker Photography - Summer Wedding at West Mountain Inn

2021 Cassi Claire Photography – Mountain Top Inn Vermont
2021 Storyboard Wedding – Tuscan Inspired Styled Shoot
2020 Love Inc Magazine – Vermont Destination Wedding
2019 Vermont Weddings – Bohemian Summer Wedding at Trailside Inn
2019 Meredith Jane Photo – Winter Mountain Top Inn Wedding
2019 Luxe Mountain Wedding – New Year's Eve Wedding in the Mountains of Vermont
2018 Carats and Cake – A Classic Wedding for Natolie and Trent
2017 Michelle Lange Photography – Hildene Estate Wedding
2017 Bethany & Dan Photography – Chittenden Vermont Wedding
2016 Kelsey Regan Photography – A Mountain Top Inn Fall Wedding
2016 Style Me Pretty – Rustic Vermont Wedding
2016 Nearly Newlywed – Woodstock Farm Wedding
2015 Style Me Pretty – Simple + Elegant Meadow Wedding
2014 You Tube – 1824 House, Waitsfield Vermont Wedding
2014 Rustic Wedding Chic – Elegant Vermont Barn Wedding
2013 Style Me Pretty - Riverside Farm Wedding
2013 Style Me Pretty – Rustic Vermont Wedding